How to Use Windows 10 Clipboard History
It's well known that you can use the windows clipboard to copy and paste text from one place to the next on your computer. But did you know there is a history of what has been passed through your clipboard? This windows feature allows you to review the text and images you copied in the past. This is a great tip for anyone that needs to reference something you copied in the past to your clipboard. Read on and we'll show you how to use this handy tool in Windows 10 and also provide some additional tips to make the best use of it.
The Windows 10 Clipboard History feature has been around since April 2018 and has flown under the radar of many end users. It allows you to save up to a maximum of 25 items in your history. That means you can look back at items you have copied before. All you have to do is use a simple keyboard shortcut (Windows Key + V). You can also access the clipboard history by right-clicking on any text field and selecting the "Clipboard History" option.
What is the Clipboard History on Windows Used For
With the clipboard history you can access and review everything you have copied in the recent past. You can use this tool to copy and paste multiple items at will, or review your past history to pull up something you were searching for in the past. Also, it allows you to retrieve images that you copied in the past which will make it much easier to find graphics and visuals you needed before. This tool is a really great feature that you will find yourself using often.
Tips and Tricks for Using the Windows Clipboard
A great way to take advantage of this new feature is to use it in a way to store text and images that you often find yourself using. Maybe this is certain search terms, website URLs you need to access now and in the near future, or anything else you must remember.
Another great tip is if you recently were working on an image and you need to use it again, just go back into your clipboard items and you'll find that image you need for your project.
How to Get Started
To access past clipboard items, you are going to first have to enable this feature. This is not turned on by default, so enabling the capability to see clipboard history windows 10 is required to get started. Let me show you how to do so.
Enable Clipboard History
First off, click the "Start" button on the bottom left corner of the screen.

This will pull up a list of your apps, next find the "gear" icon and click it for settings. You can also press Windows+i to get there directly.

In Windows Settings, click on "System."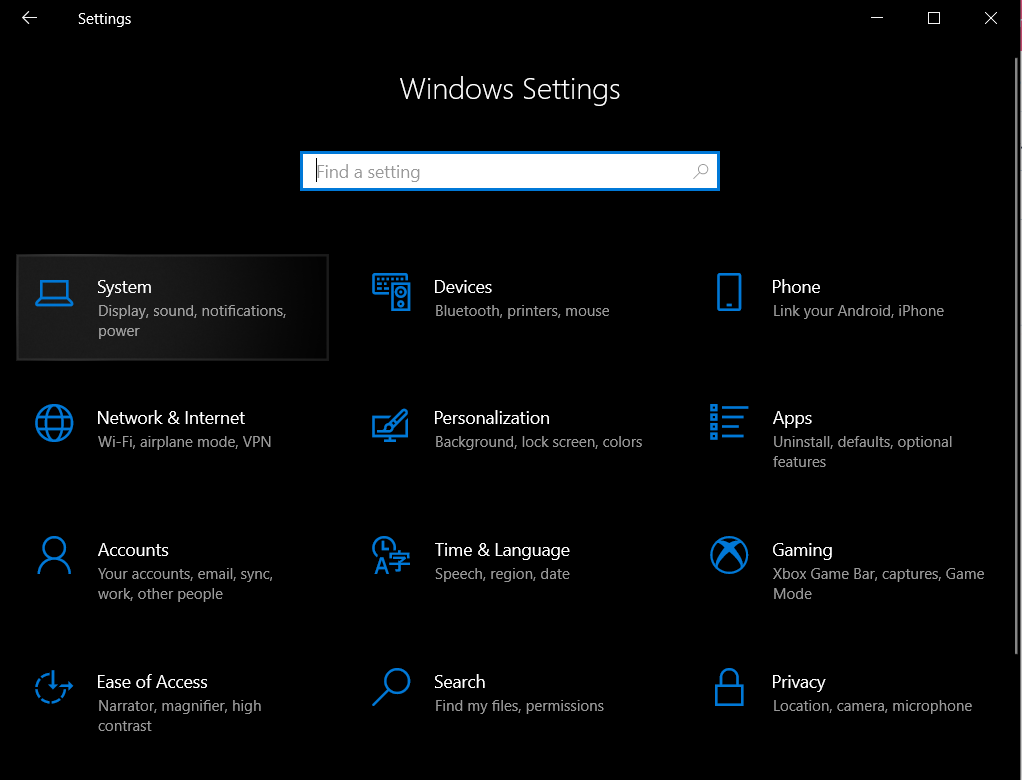 In settings on the left hand side, click on the clipboard tab for clipboard settings, then find the toggle for Clipboard History. Set that switch to ON.
Now that this is on, you will now be able to view your entire clipboard history.
Sync Clipboard History Across Devices
While you are in your clipboard settings, there is another setting you should turn on which is to sync your clipboard and manage clipboard history across multiple devices. If you have already left your settings, you can get back quickly by going to the settings app, navigating to system > clipboard, and then toggling on the setting for sync across devices.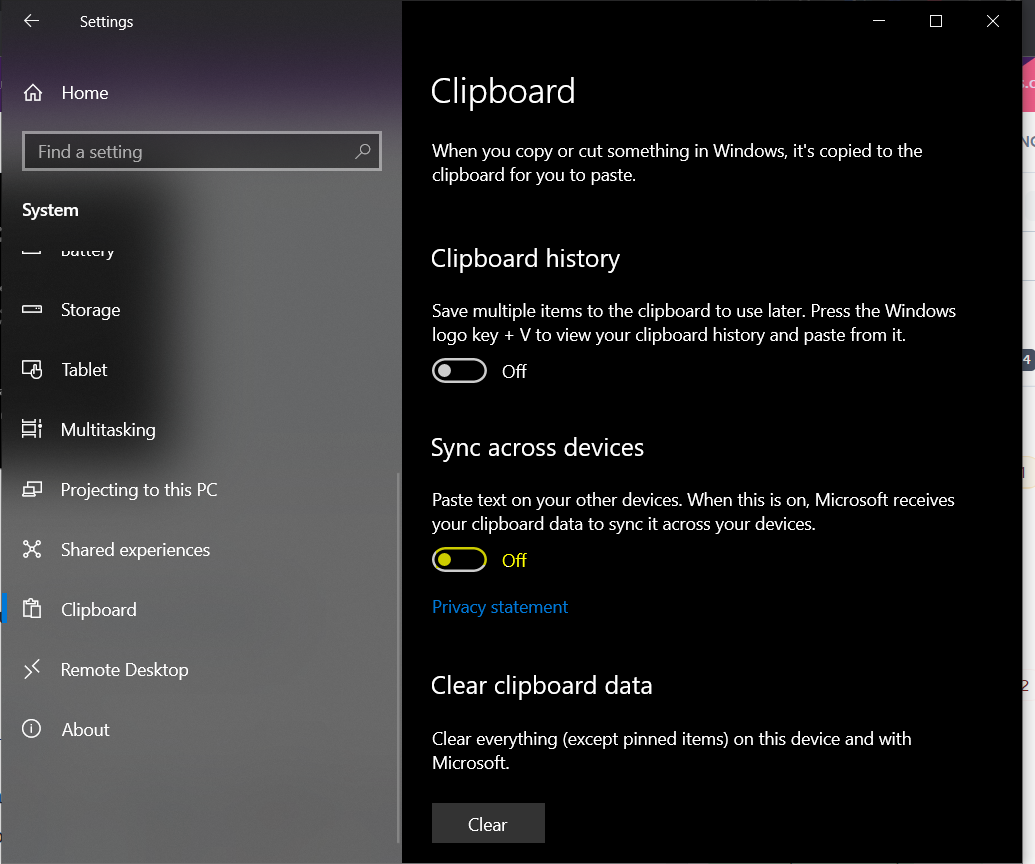 After enabling the synchronization, your clipboard will be synced across your devices, as long as you are using the same Microsoft account on each. Thankfully Windows requires users to set up their computer with a Microsoft account these days on new computers, but if you are using a company owned device or a local account, this feature may not work so well for you.
Clear Clipboard Data
Last but not least, in the same settings section, you have the option on win 10 to clear clipboard history. This comes in handy if you want a fresh start, or maybe someone else will be using your computer moving forward. Go ahead and hit "Clear" underneath clear clipboard data to make sure there are no items remaining in the history.
How to Use and View Clipboard History
Now that we have your clipboard history on windows set up the way you want it, it's time to start using this wonderful feature. To view your clipboard window, simply press the Windows Key + V shortcut on your keyboard. This will bring up a pop-up that displays all items you have copied recently. Scroll through this list and select any items to copy back into your clipboard.
Pin Items to the Clipboard
A very useful feature is having the ability to pin an item in your history so that it remains available even after you have copied more items. All you have to do is select the three dots to the right of a clipboard item and hit pin. That way you can keep that item in your history until you remove it.
Other Helpful Productivity Improvement Tools in Windows 10
In addition to the Windows 10 clipboard history feature, there are many other useful tools that can help to improve your productivity while using your PC. Task manager for example is a great tool to keep track of all programs running on your computer and easily close them through a central console. For an advanced view of what is using your PC resources, check out the Resource Monitor or System Information utilities.
Windows 10 calculator is used daily for me for quick calculations. It even has the ability to convert currencies, solve equations and even plot graphs. Snipping tool is great to take screenshots of your screen and save items in whatever format you choose. These tools used in conjunction with the clipboard history make for a powerful and productive work environment.
Wrapping Up – Windows 10 Clipboard History
Windows 10 offers a variety of helpful tools including the Clipboard History feature. We hope these tips helped you learn a bit about the Windows 10 Clipboard. If you have any questions or need IT help for your business, give us a call at 888-475-7277 or reach out through our contact form today.