Mastering the Basics of Microsoft Outlook: A Beginner's Outlook Tutorial
In today's fast-paced digital age, effective communication and organization are crucial skills for personal and professional success. With the multitude of emails, appointments, and tasks we juggle daily, having a reliable email client and personal information manager is essential. Microsoft Outlook, one of the most popular and feature-rich applications, fits the bill perfectly. If you're new to Outlook, fear not! In this Outlook tutorial, we'll walk you through the basics of using Outlook to streamline your digital life.
Getting Started with Outlook:
First things first, you need to have Microsoft Outlook installed on your computer. It's part of the Microsoft Office suite, so if you have Office installed including apps such as Microsoft Word, Excel or Powerpoint, chances are you already have Outlook too. If you don't have Outlook yet, let's get signed into the Microsoft site and install the app for your PC.
Access Your Office Account
First of all, you're going to need to login to office online to grab Microsoft Outlook. Head over to www.office.com and hit Sign In unless you're already logged in.
You are going to need to sign in with either your personal Microsoft account or else your work/school account provided by your organization. If you are unsure about your work or school account info, it may be good to stop here and reach out to IT. If you are in charge of IT for your business, head over to our

Office 365

page to get started.
Once you're signed in, go ahead and follow the steps below depending on if you're logging in with a personal or a work/school account. Using a Microsoft Account

Hit Install Office on the landing page after logging in.
This will download the Office application for you to install on your PC.

Using a Work or School Account

After logging in, on the landing page hit Install Office
Click the Microsoft 365 apps option to download and install Office.

Now you will have the Office 365 app file downloaded to your computer. Go ahead and follow the below steps to install office and start using Microsoft Outlook.
Office Installation
Go ahead and launch the file that has been downloaded from office.com. This file will be used to begin the installation of Microsoft Office.
The installation will begin and show you a progress bar.
Once complete a new message will appear showing you that Microsoft Office has been installed. Go ahead and close this notification to complete the installation.
Setting up an Email Account:
Before you can start using Outlook, you'll need to set up your email account. If you already have an Outlook or Microsoft 365 account, you can simply sign in with your credentials. To add a new email account from a different provider, such as Gmail or Yahoo, follow these steps:
Click on "File" in the top-left corner of the Outlook window.
Select "Add Account" from the Account Information screen.
Enter your email address and click "Connect."
Follow the on-screen instructions to complete the setup process.
Understanding the Interface:
Outlook's interface may seem overwhelming at first, but it's intuitive once you get the hang of it. Here are the key elements you should be familiar with:
Navigation Pane: Located on the left side, this pane displays your email folders, calendar, contacts, and tasks.
Mail View: The central part of the screen where your emails are displayed. You can read, reply, and compose emails in this view.
Reading Pane: On the right side, you can preview the contents of an email without opening it fully.
Ribbon: The Ribbon at the top of Outlook contains various tabs, such as "Home," "Send/Receive," "Folder," etc., each housing relevant commands for different tasks.
Composing and Sending Emails:
To compose a new email, click on the "New Email" button (usually located on the Home tab of the Ribbon). A new email window will appear, allowing you to enter the recipient's email address, subject, and message. Once you've composed your email, click on "Send" to dispatch it.
Managing Emails:
Outlook offers several features to help you manage your emails efficiently:
Organizing with Folders: You can create folders to categorize and store your emails. Right-click on your email account name in the Navigation Pane and select "New Folder" to create one.
Flagging Emails: Flag important emails to mark them for follow-up or action. Simply right-click an email and choose "Flag." This will automatically create a reminder for you to follow up on in the future.
Filtering and Sorting: Use the "Filter Email" or "Sort" options on the Home tab to quickly find specific emails or arrange them based on various criteria.
Conversation View: Conversation view is a handy tool to help manage your Microsoft Outlook email. This will keep all emails within the same thread in a single email thread instead of breaking each individual email into a separate email in your inbox.
Using the Microsoft Outlook Calendar:
Outlook's Calendar is a powerful tool for scheduling appointments, meetings, and events. To access it, click on the "Calendar" icon in the Navigation Pane.

Create appointments and events
Right click on any open space within your Microsoft Outlook Calendar then select New Appointment. From here you'll be able to select a date and time that works for everyone. From here you'll also be able to select a location – either at a specific physical location or via Microsoft Teams and also invite people you'd like to join the meeting within the Scheduling Assistant tab. If you're setting this up as a Teams Meeting, make sure to hit the "Teams Meeting" button under the appointment tab in the Ribbon.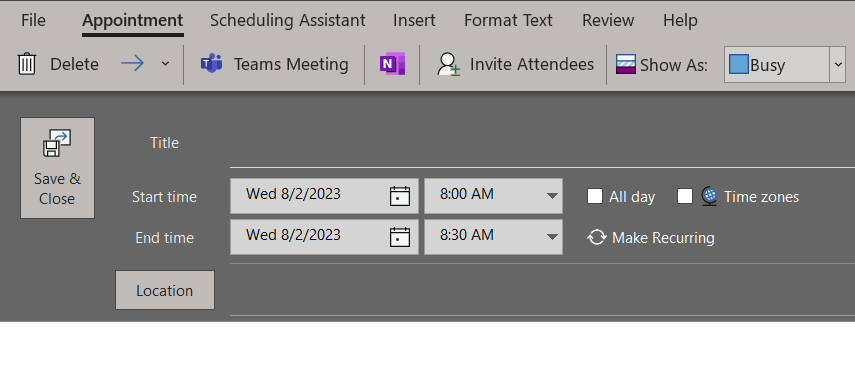 Managing Microsoft Outlook Contacts and Tasks:
Outlook also allows you to maintain a list of contacts and track your tasks. The "People" and "Tasks" icons in the Navigation Pane will take you to these sections, respectively. You can add new contacts, update information, and create tasks with due dates and priorities.
Syncing with Mobile Devices:
Outlook's benefits are not confined to your computer. You can sync your Outlook account with your mobile devices, ensuring you stay connected and organized on the go. Download the Outlook app on your smartphone or tablet, sign in with your account, and you're good to go.
After adding your email to Outlook, it will prompt you to set up on your mobile device. If you missed that step in the initial setup on your computer, simply go here to install outlook on your mobile device.
Microsoft Outlook Tutorial Conclusion
This basic Microsoft Outlook tutorial should give you a solid foundation to begin using Outlook effectively. As you become more familiar with the application, you'll discover its advanced features and capabilities, further enhancing your productivity and communication. Remember, practice makes perfect, so don't hesitate to explore and experiment with Outlook to make it work best for you. Happy emailing!