New Year, New Outlook: Getting Your Inbox in Tip-Top Shape
The new year is a time for reflection and setting goals. If one of those goals happens to be cleaning up your outlook mailbox, read on for tips on how to help speed up the process. These tips include moving old and unnecessary emails to the deleted items folder, getting rid of messages with large attachments, and removing yourself from the barrage of spam that is filling up your outlook inbox. Thankfully, Microsoft Outlook provides some great tools to help you have a more clean and organized mailbox!
Clean up Outlook Inbox Using the Mailbox Cleanup Tool
The quickest and easiest way to have a more organized outlook mailbox is to use the mailbox cleanup tool. This crafty tool in Microsoft Outlook allows you to delete and archive old emails based on age or size of the email, find and delete large attachments, and much more. You can access the mailbox cleanup tool inside of the outlook desktop app by opening your outlook mailbox, then going to File > Tools > Mailbox Cleanup.
Clean up Old Items in Your Inbox Folder
Inbox zero is the goal, but it always feels like a daunting task that is so far out of reach. Cleaning up old and unnecessary emails in your outlook inbox will take you a long ways to hitting your goal, and at least help you stay organized. It's easy for email to pile up in your inbox and lead you to becoming overwhelmed with the large amount of mail to sort through. To keep this from happening, make it a point to check your inbox every day and delete or archive any mail no longer necessary to keep tabs on.
The first thing to do however is an initial inbox clean, and from there keeping up with it should be much easier going forward. Let's start with using the mailbox cleanup tool to delete or archive any items older than 90 days. Simply go into the mailbox cleanup tool and hitting "AutoArchive." This will archive your inbox and drafts older than 6 months, and anything in your sent and deleted items folder will be moved to the archived folder if older than 2 months.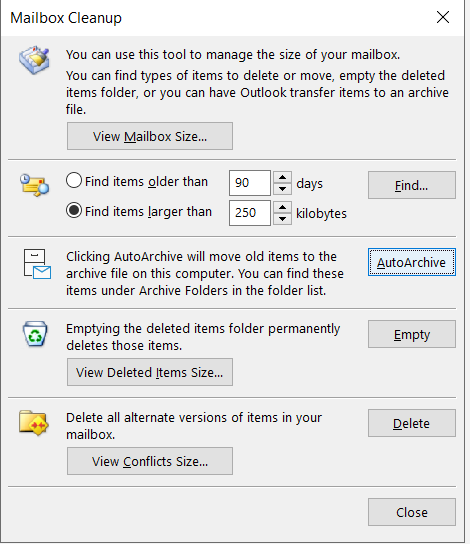 Delete Items With Large Attachments
Attachments can take up a ton of space in your outlook mailbox, which can lead to a slow experience if using the Microsoft Outlook desktop app. To free up some space in your mailbox, you should use the mailbox cleanup tool to find any items larger than 5000 kilobytes under the "find items larger than" section. Once you open up the search results, you can move those items to a new folder, and then move to the deleted items folder.
Empty Your Deleted Items Folder
After you have archived and moved everything to the deleted items folder, it's time to empty that folder and move on with your life. Within mailbox cleanup you also have the option to empty your deleted items. Go ahead and do that to get rid of that mail for good. To get to the tool, just head over to your Microsoft Outlook desktop app and navigate to File > Tools > Mailbox Cleanup. You'll see the option to "Empty" within the tool.
Unsubscribe From Spammy Email Subscriptions
Do you have an outlook inbox full of unwanted newsletters and email messages asking you to buy things you don't need? It's easy these days to sign up for too much spam, as you have to put in your email address to do just about anything online. Thankfully it's very easy to unsubscribe from those spam emails and get back to important emails only. Simply look for the "unsubscribe" option at the bottom of the spam email. If you'd don't see any way to unsubscribe, you can also look for a link to the company's privacy policy to see how to unsubscribe. Another way would be to simply right click on the email, and hit junk. This will send emails from that sender to the junk email folder moving forward.
Set Up Email Rules to Automatically Sort Your Incoming Mail
Another great way to sort and organize your outlook mailbox is to use automatic email rules inside of outlook. You can set these up either in Microsoft Outlook Web App or on the desktop. If using Outlook desktop, right click a message you want to sort, and select Rules > Create Rule. Select what you would like to do with the message from here. A good example would be to move messages with a certain subject to a specific folder in your outlook. Select "Move the item to folder" and then select which folder you'd like to move these messages to.
Clean up Outlook Mailbox Wrap-Up
Hopefully these tips have helped you de-clutter and organize your Microsoft Outlook to get ready for the new year. If you followed the steps above, you have learned how to make use of the junk email folder, clear up your deleted items, unsubscribe from unwanted subscriptions, and create rules in outlook. If you need some more help with your technology, feel free to reach out using our contact form here.